Sustainability brings value to fashion
Comillas Community invited several students and alumni involved in sustainable fashion companies to raise awareness of the importance of green and responsible consumption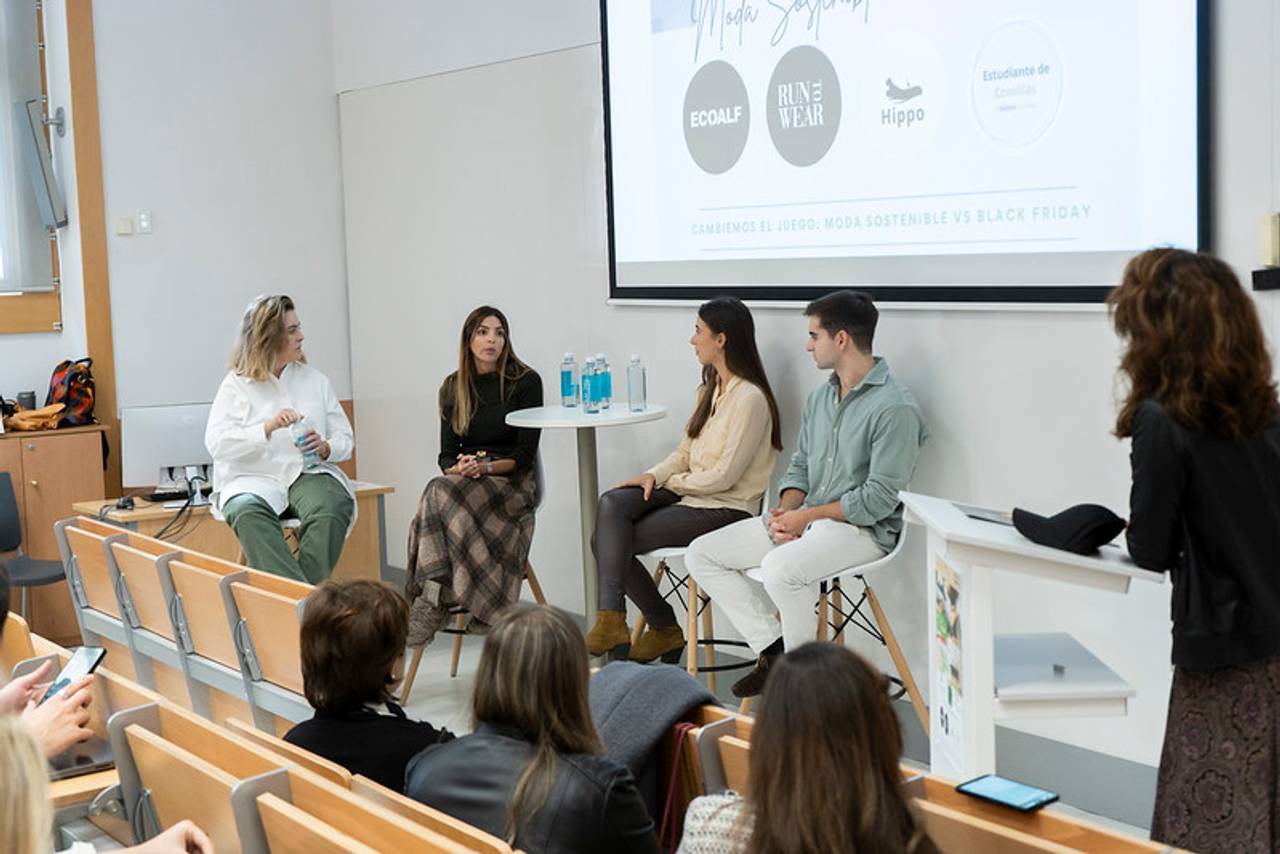 17 November 2023
On Friday, 24 November, Black Friday is celebrated all over the world. At Comillas Comunidad, however, they wanted to launch a message of sustainability and responsibility, as well as social and green consumption. To this end, and in collaboration with Comillas Alumni and the Integral Ecology Unit, they organised the meeting "Green Friday: Sustainable Fashion vs Black Friday" in which several students and alumni debated about fashion and sustainability, presenting their projects and initiatives.
The director of Comillas Comunidad, Irene Maestre, introduced the debate, noting: "Black Friday, which is celebrated almost everywhere in the world, is a day of unbridled consumption, price wars and the value of material things. At Comillas we want to promote a different kind of consumption, one that is conscious and committed to social values. This is about consumption with great care," he said.
An alumni of the university, Claudia Ojeda, founder of the circular fashion app Run to Wear; Begoña Echave, Purchasing Manager at Ecoalf, and Juan Sáez, founder of the solidarity shopping website Hippo, shared space with Belén Pérez de Vargas, current student and president of the association Start Comillas, and discussed the need to raise awareness and give greater visibility to sustainable fashion.
"We have to be able to communicate the value of sustainability better", Begoña Echave noted. "Making second-hand attractive is complicated, so we work with companies that produce locally or responsibly", concluded Claudia Ojeda. Belén Pérez de Vargas, for her part, said that transparency in the production process is key for Generation Z consumers, something that was refuted by Juan Sáez, who joined in the demand for the importance of differentiating oneself from fast fashion and communicating this added value.
Comillas Alumni
Ecología Integral
Emprendimiento